Staying on top of the latest developments in the fast-moving world of Web3 without these Web3 newsletters can feel like a full-time job.
New projects, partnerships, controversies, regulations – the news comes thick and fast. While Twitter and Reddit provide some valuable real-time updates, the signal-to-noise ratio can be overwhelming.
The solution? Web3 newsletters that cut through the noise and deliver the most important news and analysis straight to your inbox.
Whether you're an investor looking to spot the next big thing, a builder keeping tabs on new protocols, or simply crypto-curious, the right web3 newsletters can help you stay informed without getting overwhelmed.
But with so many newsletters out there, how do you know which ones are really worth your inbox space?
We've decided to put together this list of 9 top web3 newsletters, highlighting the must-reads for anyone interested in the decentralized future. Before you know it, you'll be that friend explaining web3 concepts at parties instead of the one nodding along blankly.
Spend less time searching and more time learning about the web3 space. Let's dive in!
1. Web3 Academy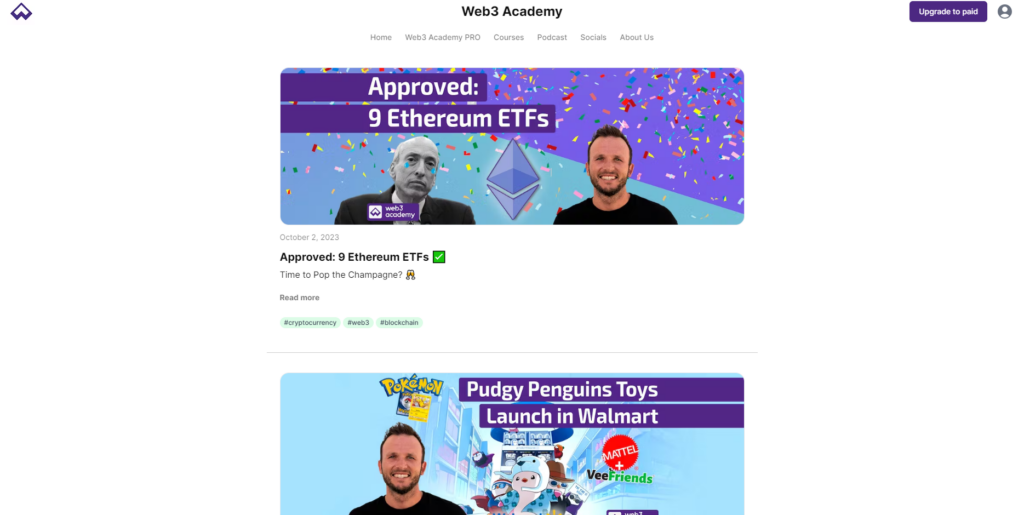 It's not your usual snooze-fest; it's like having a casual coffee chat with a blockchain whiz.
Kyle Reidhead's stewardship of the newsletters from Web3 Academy brings a wealth of insights into the dynamic world of web3 and blockchain technologies. His understanding and engagement with the community are instrumental in crafting newsletters that are not just informative but also evocative, bringing a sense of excitement to the events while also offering a broader perspective on the implications for the crypto market.
Why it is a great pick
The newsletter demonstrates its ability to not only inform but engage and provoke thought among its readers regarding the evolving web3 landscape. It also blends critical insights with a touch of humor, providing a balanced view of the unfolding events.
Subscribers: 7000+
Schedule: 3 times a week, Monday, Wednesday, Friday
2. a16z Web3 Newsletter


The a16z Web3 Newsletter, curated by the knowledgeable team at a16z crypto venture capital, is a treasure trove for those curious about crypto and web3, the futuristic version of the internet. By neatly trimming down the complex jargon and overflowing information, this newsletter presents the essential updates in a digestible format.
It's a channel for sharing data and resources from various contributors like builders, researchers, and creators who are actively working towards building web3.
Besides the web3 newsletters, a16z crypto also provides a podcast for deeper insights and maintains a social media presence for broader engagement.
Why it is a must
The newsletter updates on a16z's web3 research initiatives, showcasing its commitment to bridging academic theory with industry practice. It provides a unique blend of technical insights and practical advice by also employing different analogies such as magic to explain this technical subject in an engaging manner. This style is informative yet accessible, making complex topics understandable to a broader audience – both for novices and seasoned enthusiasts in the field.
3. The DeFi Edge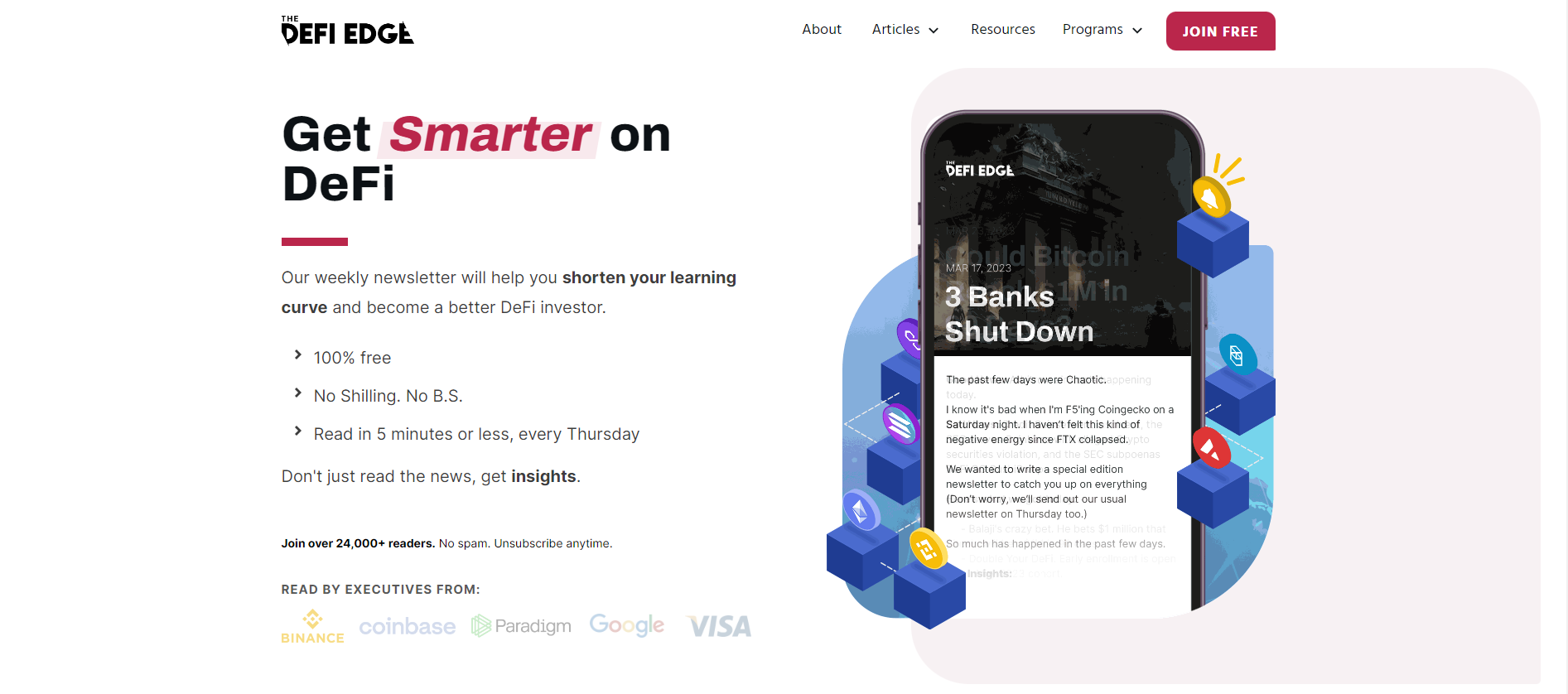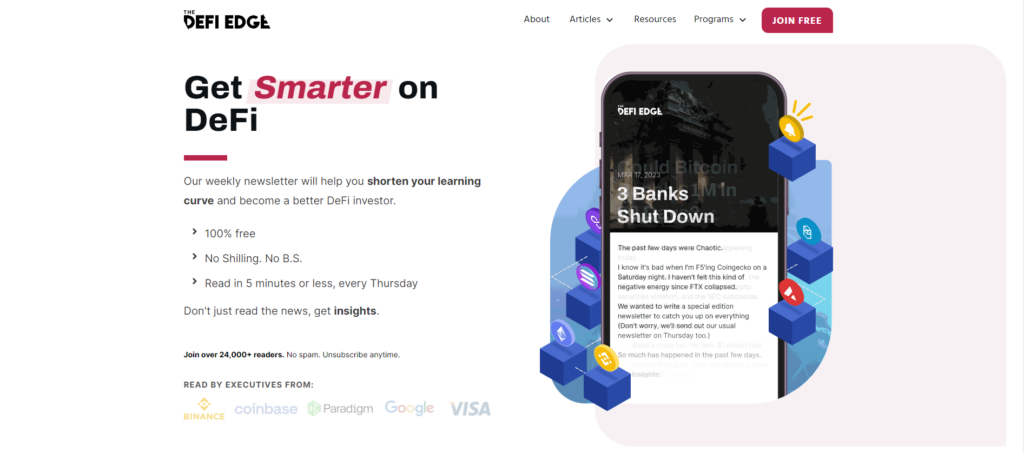 Drawing on 20+ hours of research each week, the web3 newsletters by The DeFi Edge decode complex topics into bite-sized lessons. It distills the most important developments, trends, and insights from across the complex Web3 landscape.
The DeFi Edge serves up a tightly curated 5-minute read. No hype, no hidden agendas – just the signal that matters most.
The constructive tone and simplified explanations make DeFi accessible for newcomers while offering veterans a competitive edge. For investors and builders tired of hype-filled headlines, this newsletter delivers essential education and perspective. It stands out as a trusted resource focused on knowledge sharing over empty speculation.
Why it is just great
By blending accessible writing with professional insights, and consistency with interactivity, The Defi Edge succeeds as a forward-thinking guide for the future of finance. The multimedia content shares specialized web3 knowledge in an easy-to-digest way for busy professionals.
Subscribers: 24.000+
Schedule: Weekly
Website: https://thedefiedge.com/
4. This Week in Web3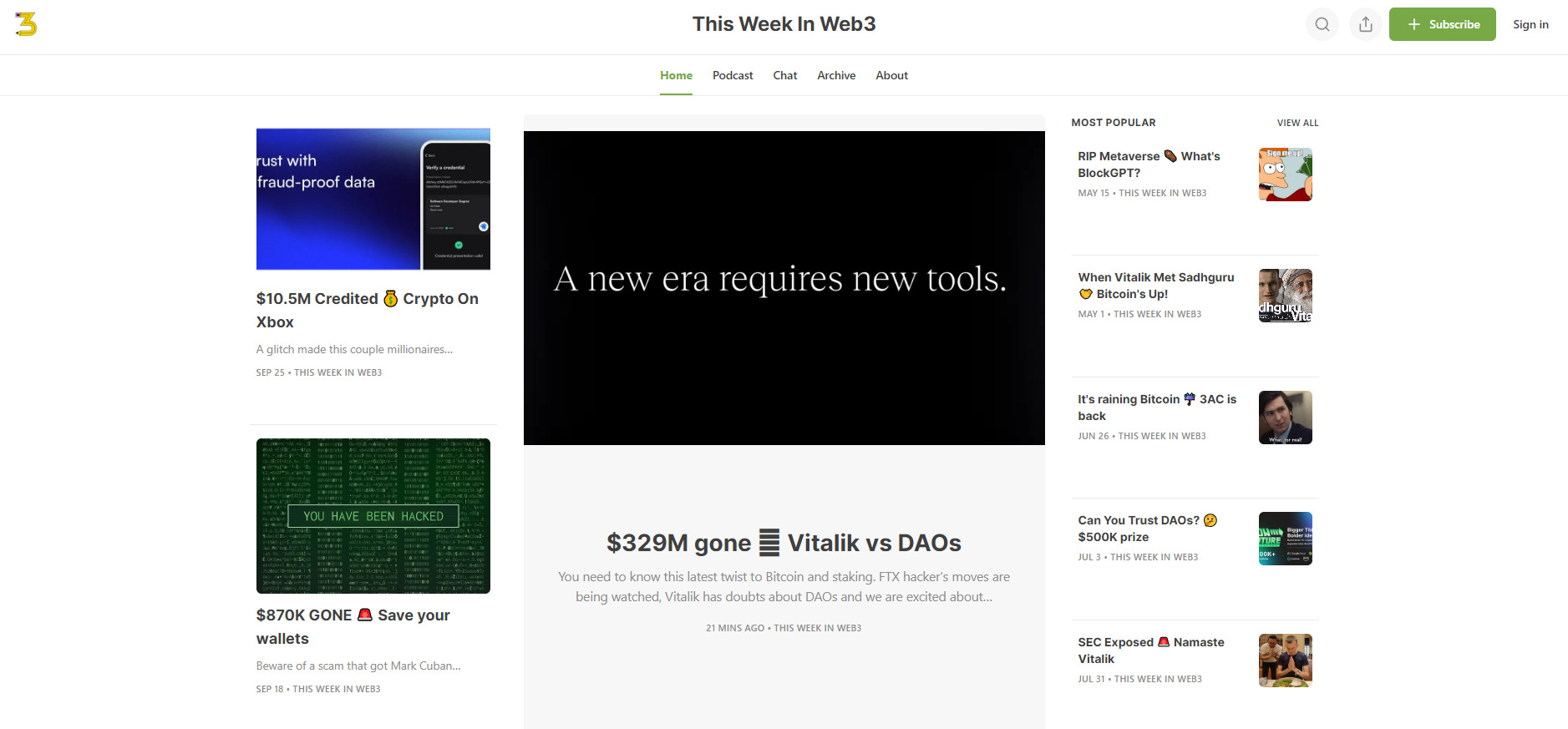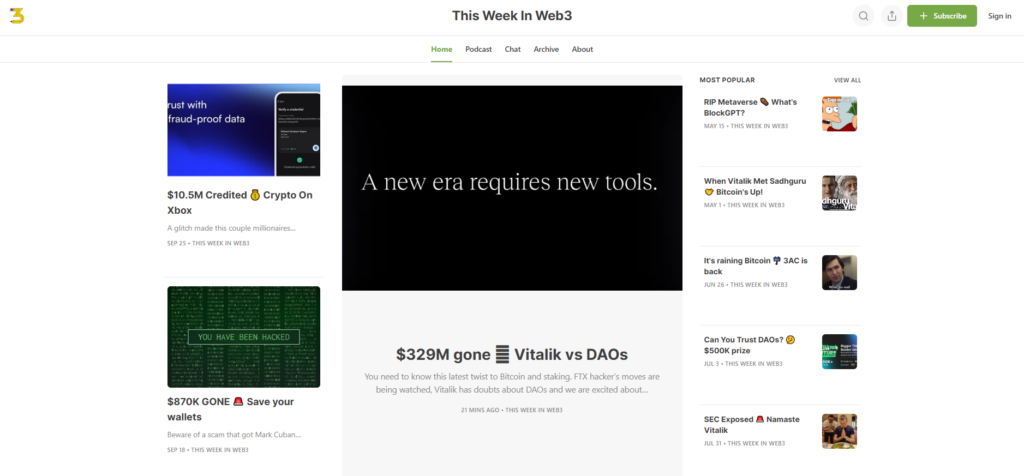 If you want a concise yet thoughtful weekly narrative, this one's for you. The newsletter summarizes the most essential events and updates in a tidy 5-minute read.
Published by web3 fans Spacekayak and The Product House, it offers perspective on the latest trends without the hype. The constructive tone and inclusive coverage let everyone join the web3 conversation.
This Week In Web3 analyzes bite-sized news and highlights fresh tweets. You'll also find vital jobs, events, and product spotlights.
Why we think it is a great read, every time
The This Week in Web3 newsletter stands out for its ability to contextualize the rollercoaster ride of web3 in a grounded, hype-free way. The constructive weekly analysis lets you join the web3 conversation as an informed citizen rather than a headless chicken. You get a digestible narrative that builds your knowledge base without overwhelming you.
5. Alchemy Newsletter (For Developers)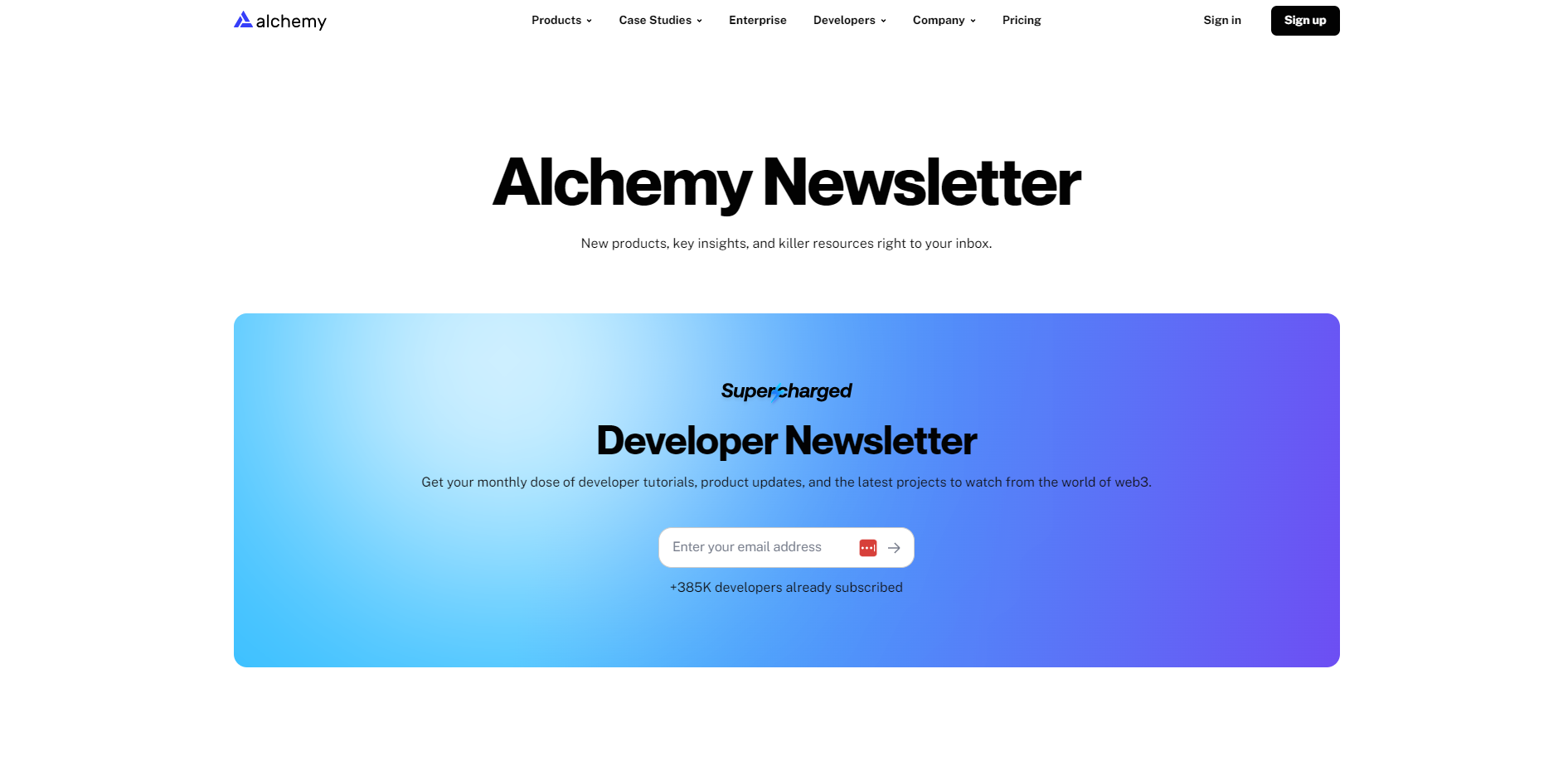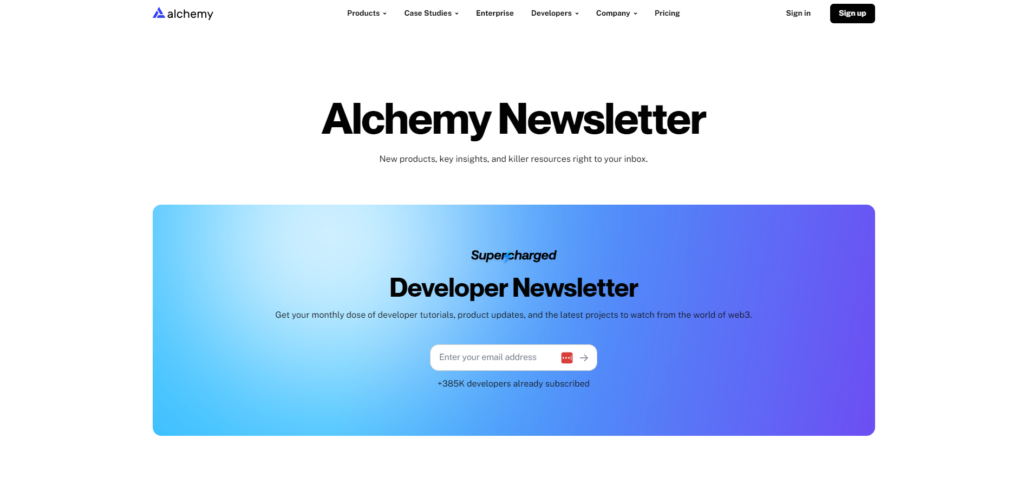 For developers looking to dive into web3, the Alchemy newsletter is an invaluable resource. As a leading blockchain developer platform, Alchemy has its finger on the pulse of the web3 space. They also let you get your hands dirty with the tech.
The web3 newsletters offer the perfect blend of industry news, events, and educational tutorials for developers at any level. Readers stay up-to-date on the latest NFT and blockchain trends while leveling up their skills.
Whether you're a total web3 beginner or a seasoned pro, the Alchemy newsletter will fast-track your blockchain education. The comprehensive industry coverage and technical tutorials make it required reading for web3 developers.
A must for Web3 devs!
For web3 developers tired of hype, Alchemy delivers real talk and skills to developers like real people, not marketing targets. The newsletter also zooms out to provide perspective on broader industry trends and events. It blends the macro web3 landscape with micro technical insights. It's like a masterclass in blockchain building beamed directly to your brain (or at least your inbox).
6. Milkroad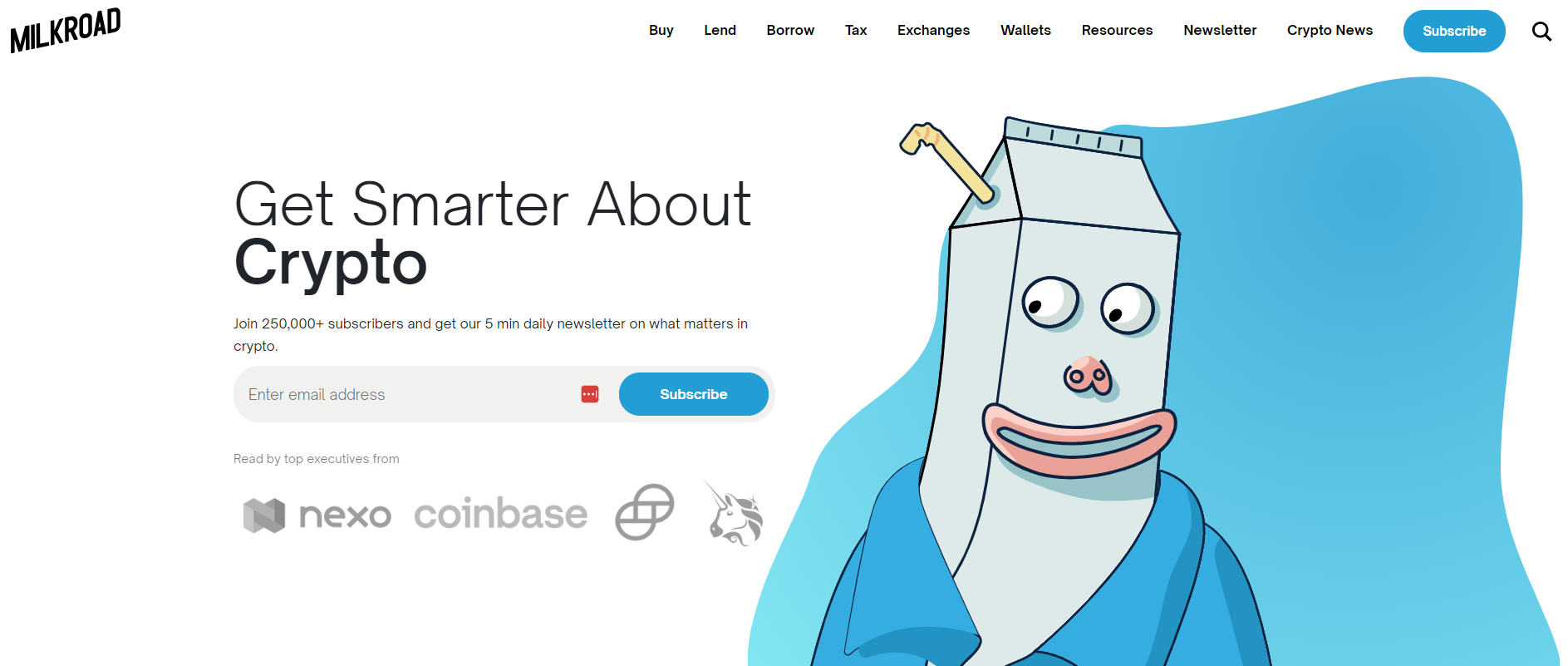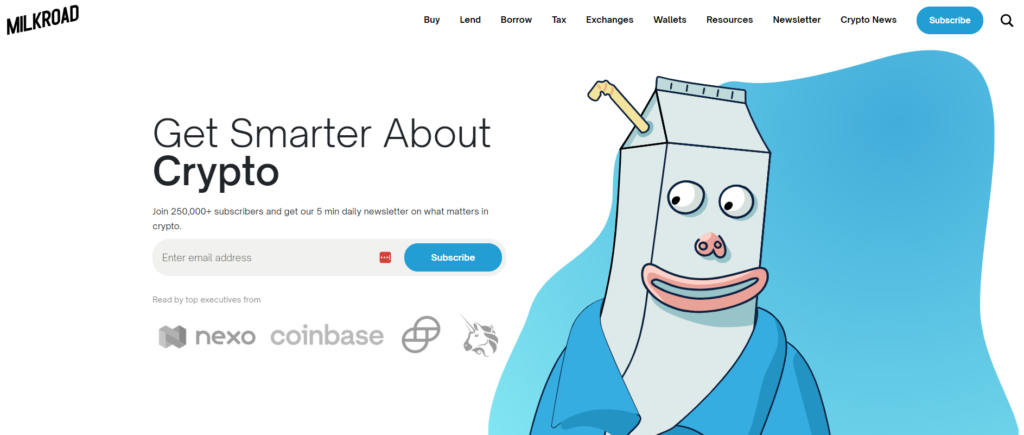 Praised for its enjoyable and speedy content delivery, it's a favorite among crypto enthusiasts.
You'll be in good hands with Milkroad's crew of crypto enthusiasts, writers, and finance gurus. Just consider Michael, who did his friends' homework for chocolate milk bribes. Or Diego, dishing out daily crypto laughs after dabbling in stand-up comedy. Their vibe is pure fun and always friendly.
The typical edition contains a market update, a highlighted topic explanation, insider scoops, and a funny off-beat story – all readable in under 5 minutes. For crypto newcomers, this is a perfect way to stay up-to-date without getting overwhelmed. More experienced users appreciate the newsletter's brevity and wit.
Why we love it
Milkroad delivers hot takes on the latest news, insider secrets, and "wait, what?!" stories. It's designed for a quick, enjoyable read, delivering the latest crypto news in a digestible 5-minute format.
The conversational tone also adds a personal touch, making readers feel more connected to the content and potentially more engaged with the broader crypto conversation.
7. Developer DAO (For … you guessed it, mostly Devs!)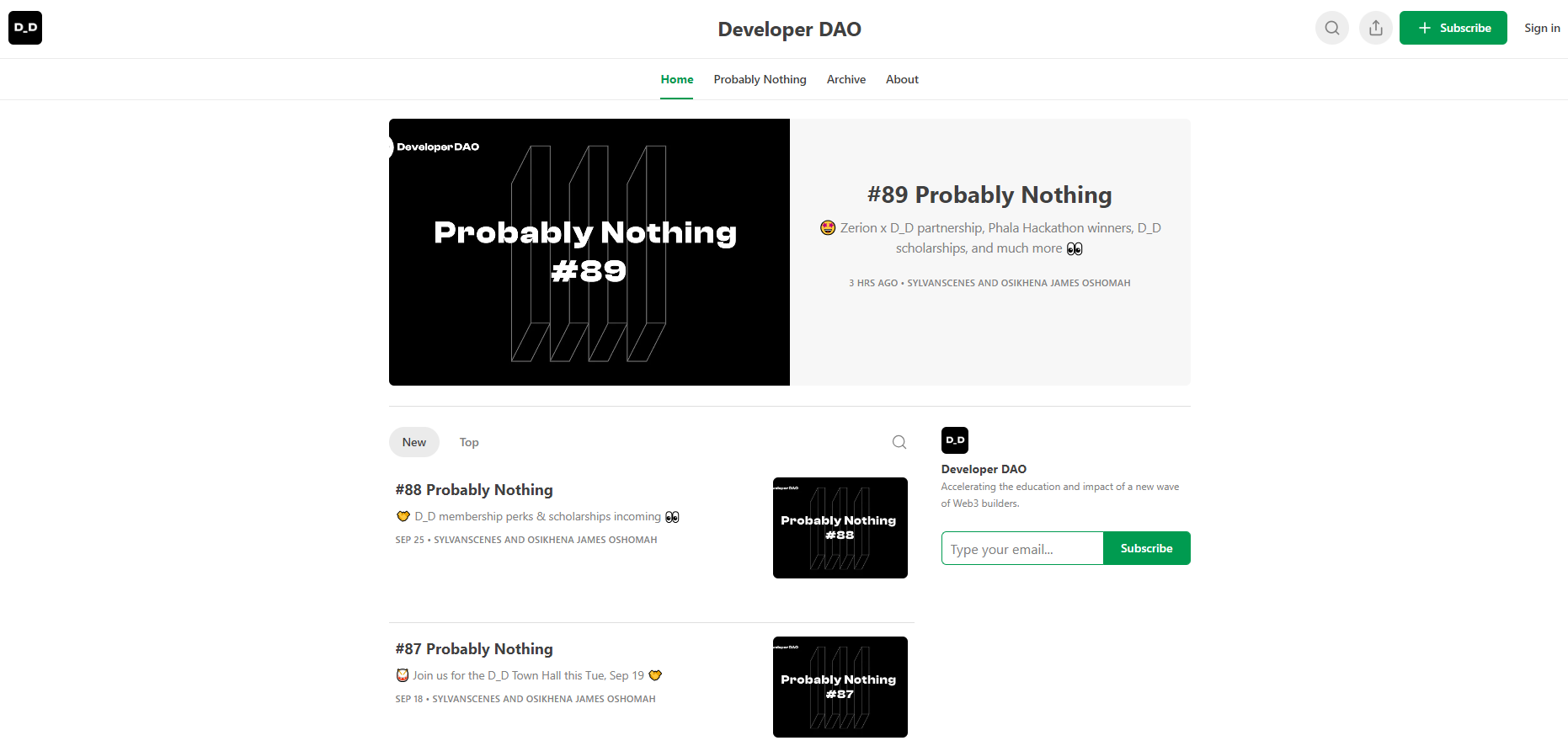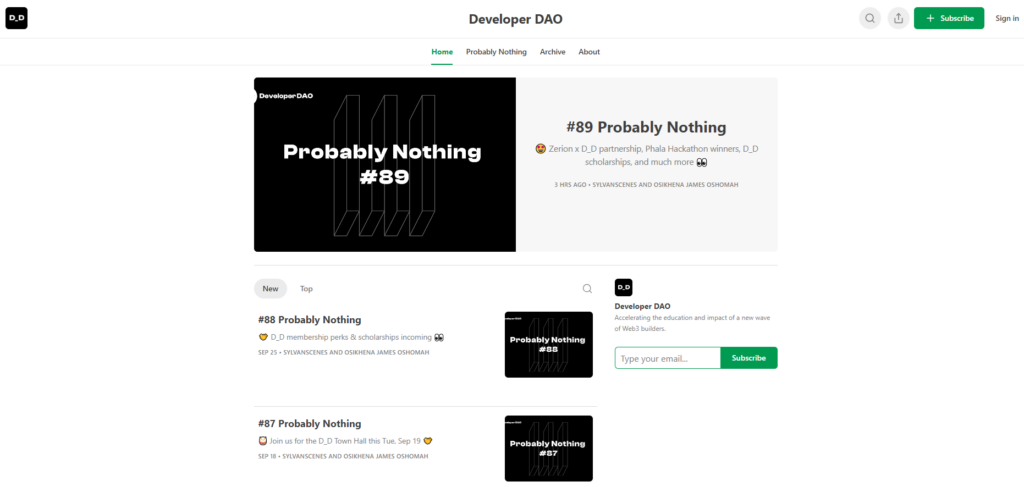 For developers looking to dive into web3 with a community of like-minded builders, Developer DAO is a great choice. This newsletter summarizes the latest happenings in this dev-focused DAO on a mission to educate and empower the next generation of web3 creators.
Published by DAO members themselves, the informal vibe comes through right away with the tongue-in-cheek title "Probably Nothing." Don't let that fool you though. The valuable updates inside prove this is far from nothing.
Each issue covers upcoming events like talks and hackathons where members can sync up. You'll also find ecosystem news, open job listings, and progress on DAO initiatives like their developer education platform.
Why we think it's great
The Developer DAO newsletter stands out for its authentic insider's view into a thriving community of web3 builders. Their palpable passion for empowering developers shines through in every issue. You get a front-row seat to members collaborating, learning, and pushing the decentralized tech space forward together. The newsletter's uplifting tone and wealth of opportunities make you want to join in on the action.
8. Web3 Daily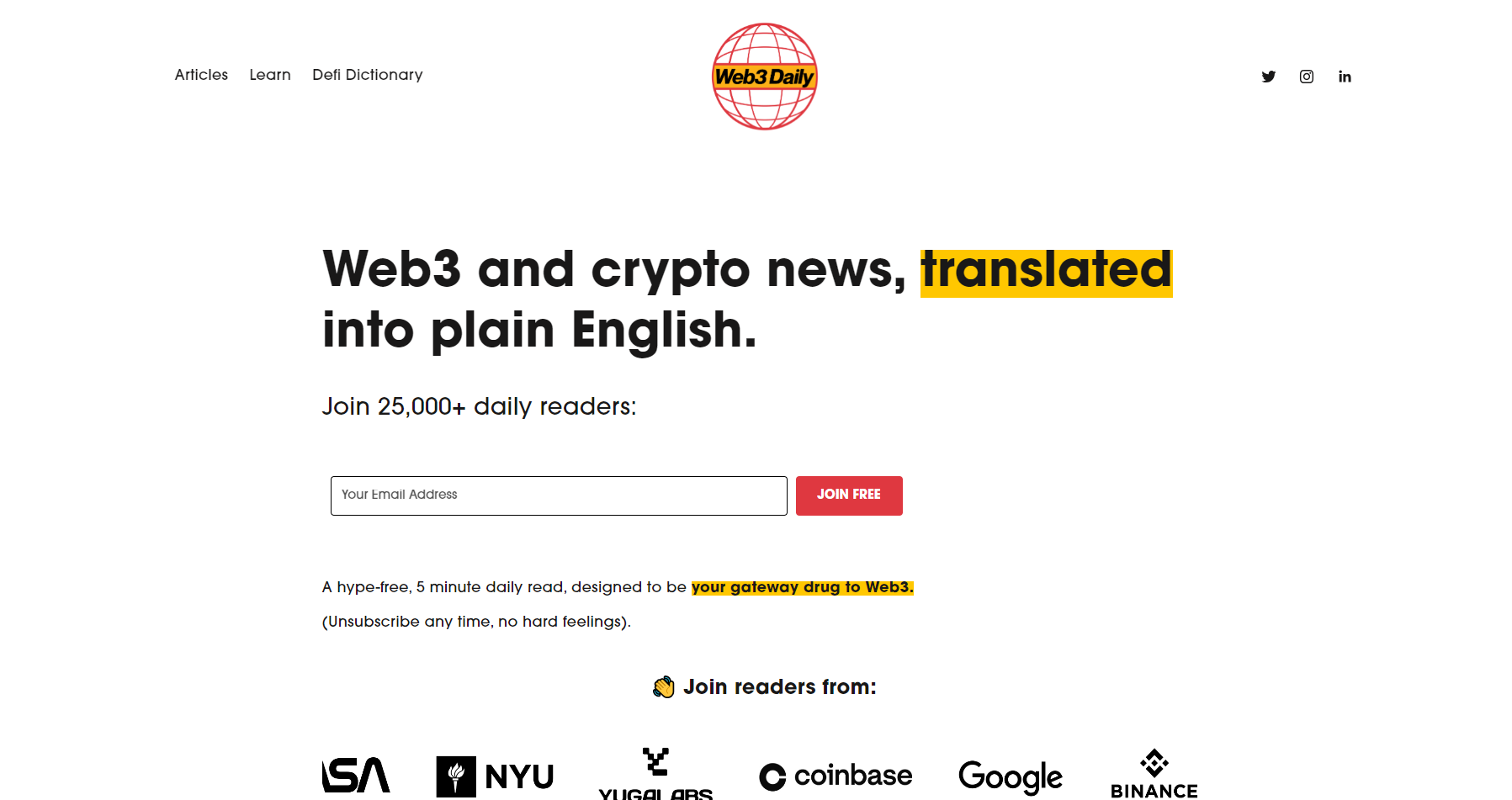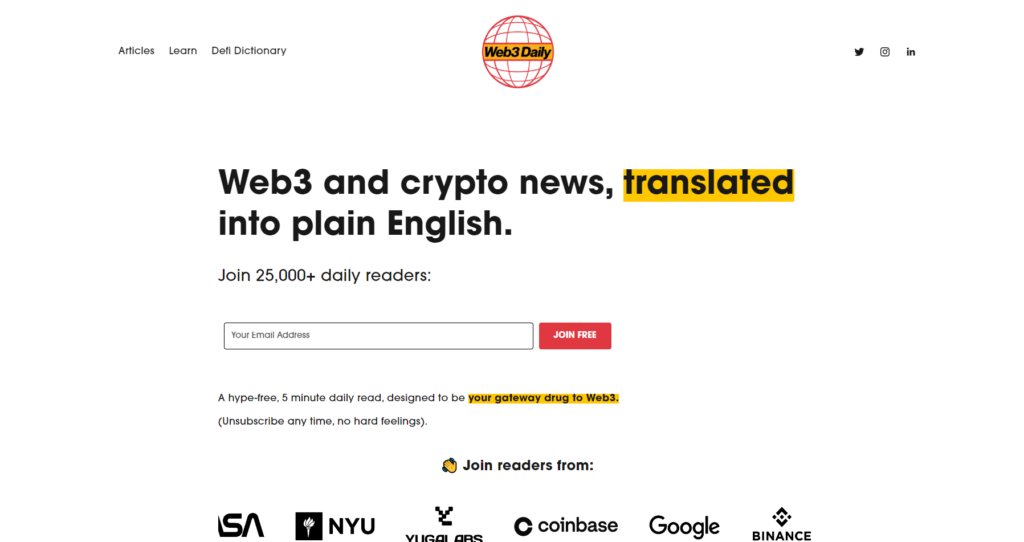 The Web3 Daily Newsletter is a breath of fresh air in the often hype-filled crypto space.
It's published daily by Seb and Chevy, two buddies who got tired of web3 coverage riddled with buzzwords and complexity. They break down the latest crypto and web3 developments into easily digestible nuggets anyone can understand.
You can tell Seb and Chevy have been following the crypto scene closely over the years. Their analysis cuts through the noise to highlight what truly matters, using analogies and a conversational tone.
The newsletter keeps things entertaining too. Whether they're poking fun at past regrets or building hidden games, Seb and Chevy inject their distinct personalities into each issue.
Bottom line: love it:
If you want to stay up-to-date on crypto without getting lost in technical mumbo jumbo, the Plain English Crypto Newsletter really hits the spot. Seb and Chevy translate even tricky topics into simple terms anyone can appreciate.
9. Web3 Weekly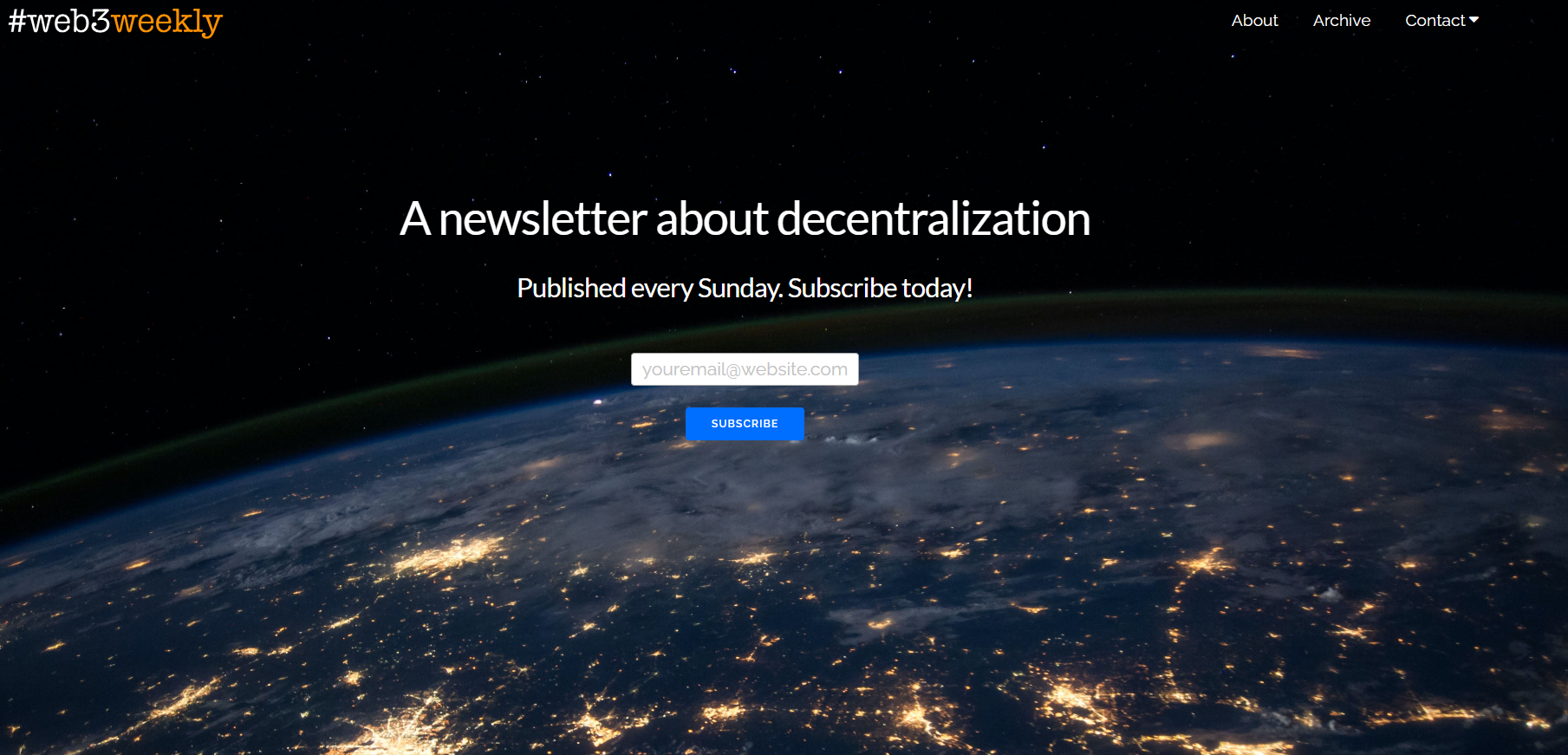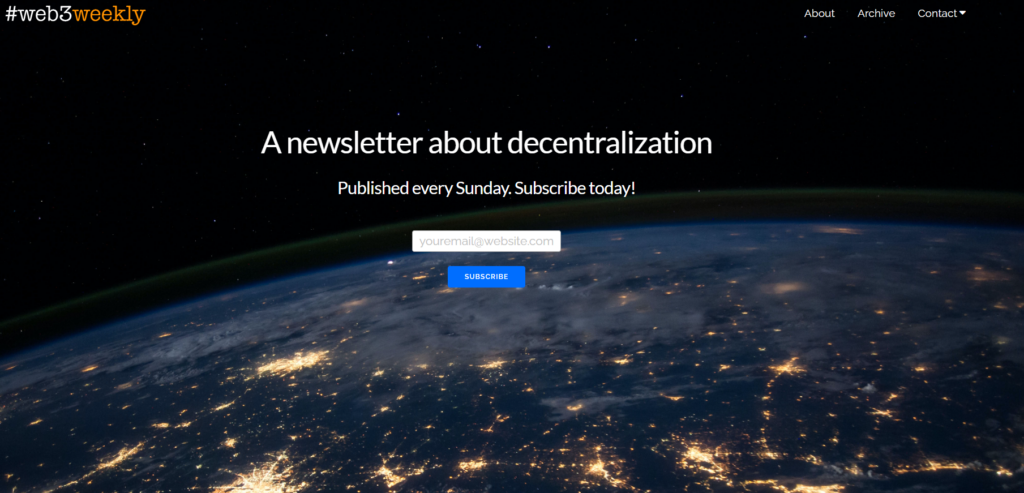 The Web3 Weekly newsletter provides a valuable service by distilling down the most important weekly developments in the web3 and crypto industry. It puts these events in perspective for readers interested in this rapidly evolving space.
The newsletter is published by Peter A. McKay, an experienced journalist and web3 professional. He launched it in 2017 to cover the decentralized technology movement and make complex blockchain topics accessible.
Peter brings over six years of direct web3 industry experience, having worked on a decentralized social network at Capsule Social and contributed to World Economic Forum blockchain whitepapers.
In curating the newsletter, Peter draws from his background as an award-winning financial journalist. He provides original analysis and a balanced perspective to make the updates engaging and informative for readers following web3.
Why Web3 Weekly is a Top Newsletter Pick:
The Web3 Weekly newsletter provides a uniquely valuable lens on the world of decentralized technology. Blending financial journalism chops with insider web3 experience, author Peter McKay serves up the week's essential developments with savvy analysis. For intelligently curated web3 news minus the hype, this one hits the spot.
Final thoughts
And that wraps up our tour of the web3 newsletter landscape! As you can see, there are some stellar options out there to suit every interest and experience level.
Subscribe to one of these fine newsletters and get the knowledge you need neatly packaged and delivered to your inbox.
Never miss a beat, and avoid becoming the last of your friends to YOLO into InuCoins or whatever nonsense they're shilling next week on CryptoTwitter. You've got this!