Buy, sell and trade crypto on KVX, a trusted european crypto exchange.
Enter a new era of crypto trading.
Experience unparalleled convenience, security, and support as you venture into the ever-evolving crypto landscape.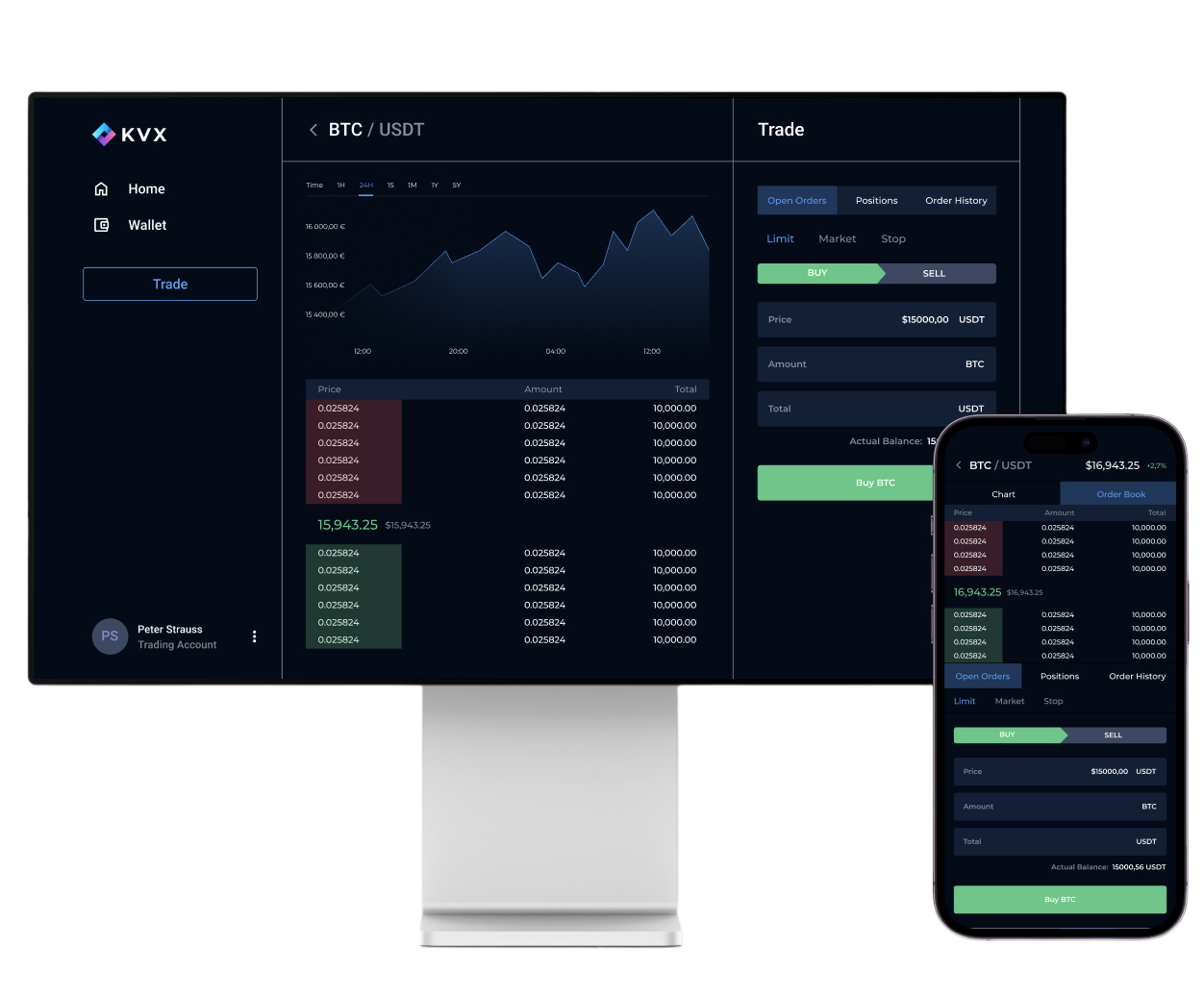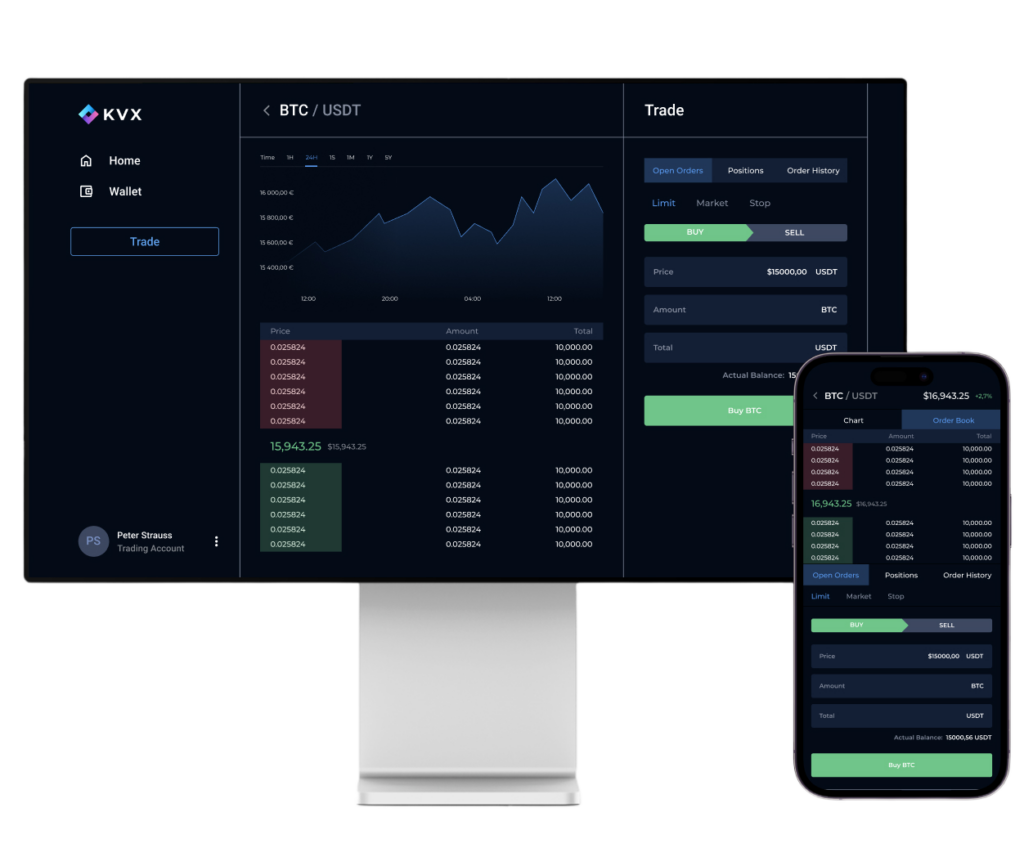 KVX EXCHANGE IS LAUNCHING SOON
Buy, sell and trade Bitcoin, Ethereum & other cryptocurrencies with ease on KVX.
Take your trading to the next level
KVX makes crypto trading easy for everyone. Whether you're a beginner or an expert, KVX has the tools you need to buy, sell, and trade cryptocurrencies. 
Our platform is designed for simplicity, so you can quickly get started in the world of crypto.
Trade cryptocurrencies with freedom, in a market that never sleeps.
Trade crypto.
Anywhere.
Anytime.
Experience seamless 24/7 crypto trading with our sleek mobile apps for Android and iOS.
The KVX crypto mobile app enables you to buy, sell and trade digital assets on the go! Trade Bitcoin with ease, and get started in the fast-paced world of crypto.
Maximize your crypto profits and enjoy seamless transactions today!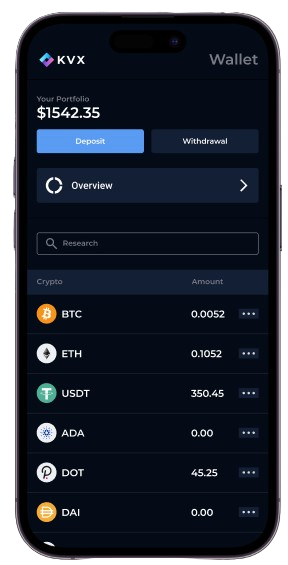 Start your crypto journey
the right way​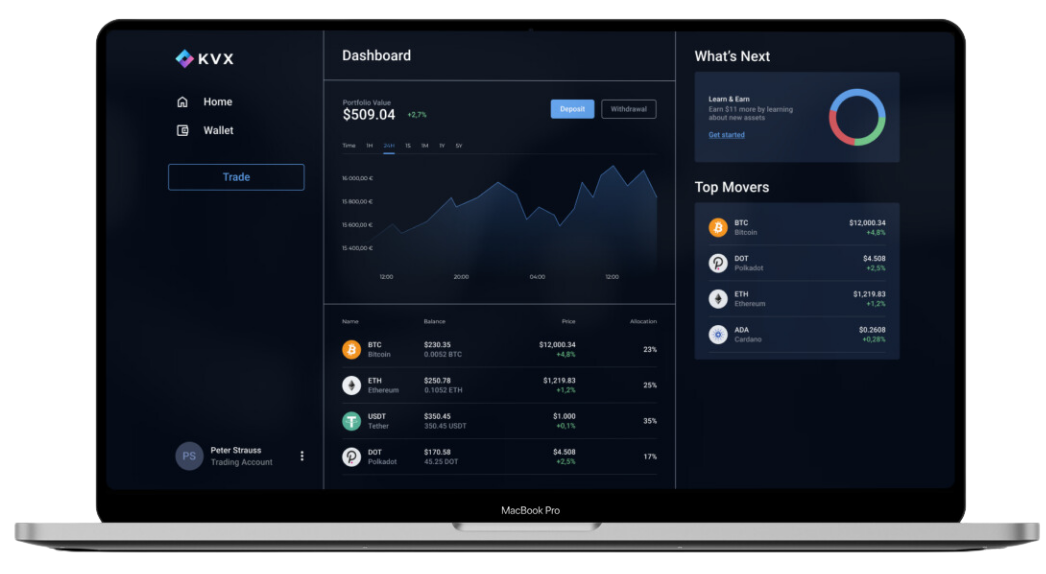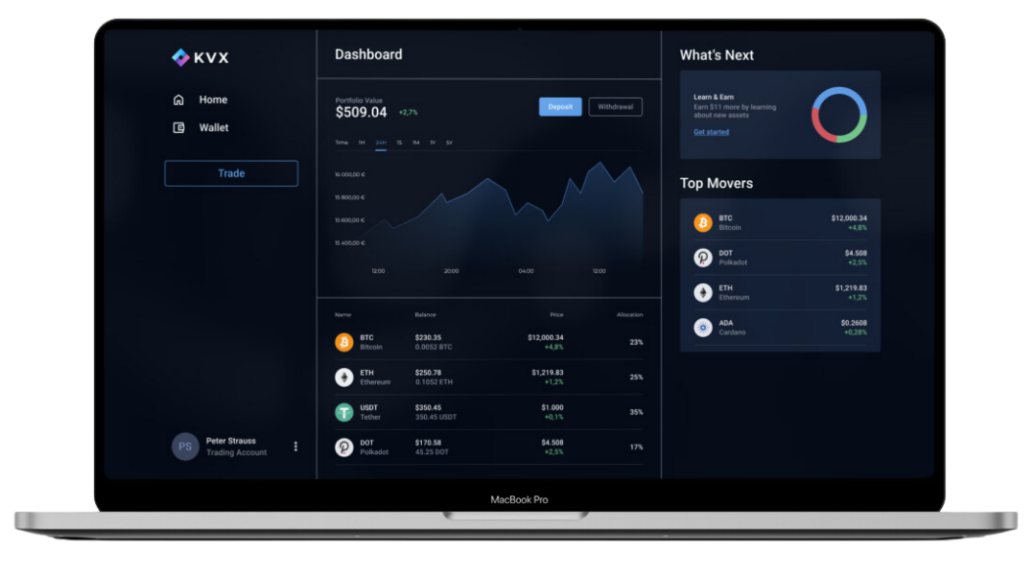 The exchange platform is designed with both beginners and advanced traders in mind, providing a clean and intuitive user experience.
With spot trading fees below 0.1% for crypto buyers, and sellers our exchange is an excellent option for traders pursuing affordable trading solutions.
Providing exceptional liquidity, our platform guarantees fast and seamless transactions, allowing traders to capitalize on market opportunities.
Wide variety of
crypto assets
Choose from many popular coins to buy, sell or trade, and discover new and exciting ones. Build your dream portfolio. Take advantage of opportunities to maximize your trading with our easy-to-use tools that fit your needs whether you're a beginner or expert.
With KVX, crypto trading is fun and simple. The possibilities are endless – start your crypto adventure today!
As the official currency of the KVX Exchange, KVX Token gives you special advantages.
Get lower trading fees when you buy, sell and trade, plus more rewards, and early access to new coins and platform features.
KVX Token unlocks a smooth and rewarding crypto trading experience. 
Choose our crypto exchange for a seamless and secure cryptocurrency trading experience that prioritizes user satisfaction. With our user-friendly platform, competitive fees, and exceptional customer support, we're the ultimate choice for navigating the world of digital assets with confidence and ease.
Our crypto trading platform is built to transform the world of finance.
Safekeeping assets, user data, and information is our number one priority. We maintain end-to-end bank-grade protection and undergo extensive third-party audits.
Our well-thought-out processes and clean design allow users to handle various investment types and trading strategies intuitively. On any device, anywhere, anytime.
High-performance trading infrastructure for when it is needed most. Rely on our expertise in cutting-edge technologies to deliver world-class software.
Markets and technical requirements may vary over time – we are ready for change. Our customer focus and ability to quickly adopt makes our platform unique.
Catch all our latest happenings and insights.
Frequently Asked Questions
KVX is a european cryptocurrency exchange platform that allows users to buy, sell, and trade various cryptocurrencies such as Bitcoin, Ethereum, Litecoin, and many others.
KVX Token (KVX) is the native cryptocurrency of the KVX ecosystem. It can be used to pay for trading fees, participate in token sales on KVX Launchpad, and access various other services. Holding KVX can also provide users with discounts on trading fees.
What are the trading fees on KVX ?
KVX charges trading fees based on a tiered structure, which depends on your monthly trading volume and KVX Token (KVX) holdings. The fees range from 0.1% for the lowest tier to 0.05% for the highest tier. Holding KVX Token and using it to pay for trading fees can provide additional discounts.
Can I trade on KVX using APIs?
Yes, KVX offers a comprehensive set of APIs that allow users to integrate their trading strategies, bots, or applications with the KVX exchange platform. The API provides access to various functions, including account management, trading pairs, ticker prices, and order placement. 
IS KVX A CENTRALIZED EXCHANGE?​
Yes, KVX is a centralized exchange. We offer a user-friendly interface, a wide range of cryptocurrencies, and various trading options.
Yes, users are required to verify their identity through Know Your Customer (KYC) procedures. This helps maintain regulatory compliance and prevents illegal activities.